Living Together – Across Nationalities and Cultures
  —Message from Chairperson—
  In 1985, Toyonaka International Friendship Association (TIFA) was founded with the aim of creating a society in which it is easy to live with foreign residents in the community, and became an NPO in 2000.
 The organization holds volunteer Japanese language classes (3 classes as of now) for newcomers to Japan to help them smoothly live in Japan. The organization also holds a "Multicultural Child Raising Salon" for mothers who need support during pregnancy, childbirth, and childcare in Japan. We also hold bazaars for livelihood support and assist in finding used household goods, accommodations, and housing, with the aim of making them feel more welcome in the local community.
For those who have become accustomed to life in Japan and are able to communicate in Japanese, TIFA supports them in expanding their role in the local community as international understanding instructors. For example, we can assist in finding work, schools, community centers, libraries, etc. There may be difficulties integrating in the community due to a lack of multicultural understanding. However, we hope to create a richer community by being supportive and learning from each other in the community, regardless of differences in complexion, hair color, or language.
In addition to these activities, we travel to developing Asian countries, to think about how everyone can live in good heath and with hope for the future from the same perspective. We discuss what needs to be done with the local people, and help them with what we can do as Japanese people. After working in the Philippines, Vietnam, and other countries, TIFA continued its activities to rural Nepal around 1993, and it has now become like a second home.
At first, we built "work training centers" such as sewing classes for women who cannot leave their homes and "literacy classes" for adults and for children who cannot go to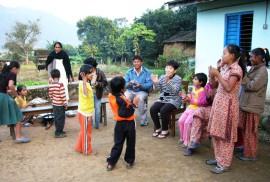 school. We have also built orphanages for girls without a guardian and are in danger. In the process, we have also established and supported the operation of an "orphanage" for girls who have lost their parents and have no one to care for them. TIFA has also expanded to elementary schools for ethnic minorities who cannot get government support, clinics, foster hom
es, and programs such as sewing and quilt making classes to help women become independent.
It is a very pleasant change that nearly half of the women who were unable to leave their homes due to their status are now able to, to discuss ways to improve their lives
 and earn even a small amount of income.
 Traveling to these local communities allows for exchange of warmness and kindness. It is energizing and enriching for the heart.
  TIFA's activities in which people connect and support each other are not bounded by borders.
Toyonaka International Friendship Association (TIFA) Chairperson Fusa Kasai